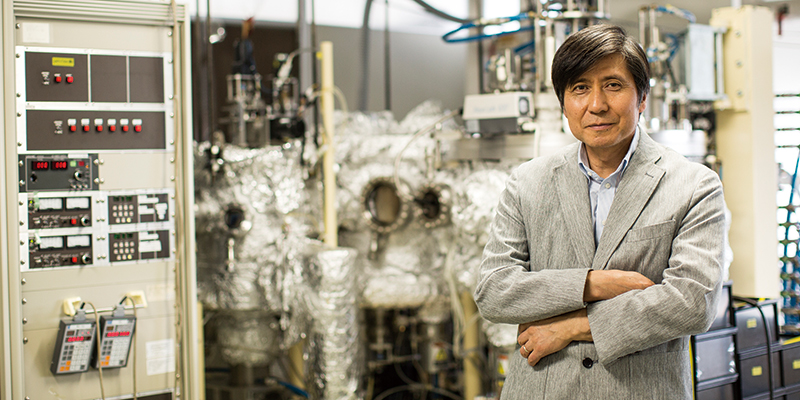 We have succeeded in developing a sensor for the living body that can detect the bio-magnetic field with high sensitivity and high resolution. This was achieved by using a tunnel magnetoresistance (TMR) device to work at room temperature.
Since the TMR device was shown to exhibit a large magnetoresistance effect at room temperature by our group in 1994, many research and development of both the read head of high density hard disk and the non-volatile magnetic memory towards the application, has been promoted by many researchers at home and abroad. In recent years, the device is expected as a high-sensitivity high-resolution magnetic field sensor operating at room temperature. Considering the big market, it would be interesting of application to detecting a magnetic field from a living body.
In an aging society, the proportion of deaths due to diseases of the heart is a big weight, treatment of high-precision heart disease, and the need for prevention by early detection of the disease is growing. As a non-aggressive method of inspecting a heart, electrocardiogram (ECG) is in use widely. However, ECG is not enough in terms of spatial accuracy to identify essentially the disease site. On the other hand, the magnetic field directly from the current source has essentially very high spatial resolution.
In recent months, our group - in collaboration with Konica Minolta, Inc. – succeeded in detecting the heart's magnetic field by using the TMR device.
This device enables cardiac electric activity to be measured in a non-aggressive way, so that the diagnosis of heart conditions such as coronary heart disease or arrhythmia can be greatly improved.
In the future, a special shield room for detecting the bio-magnetic field would be unnecessary because this device has a large field range, so that heart conditions can be measured and treated in a more relaxed environment. The device is expected to make a difference in medical treatments, preventive health care and sports.

(a)MCG system with a sensor module and measurement system. The sensor module is set on a mannequin and detects an electriccardiogram (ECG) and MCG, simultaneously. (b) Electric circuit with TMR sensor inside the module. (c)ECG signal (upper) and MCG signal (lower) on the Monitor.
Reference:
Tohoku University, Konica Minolta, Inc. and JST (2015). Developing high-sensitivity, high resolution magnetocardiography for use at room temperature [Press release]. Retrieved from http://www.tohoku.ac.jp/japanese/2015/07/press20150723-01.html