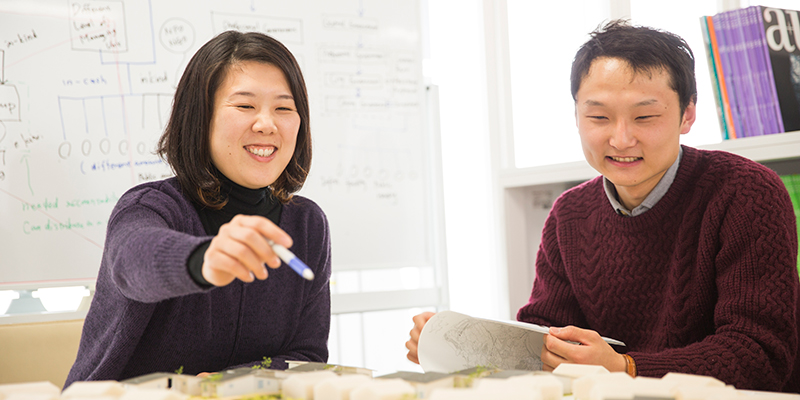 My field, architectural planning, is the discipline for rearranging a variety of conditions prior to planning out architectural structures, then providing "suitable forms" for the functions required to such structures. To do so, existing structures and the activities taking place therein are analyzed; the knowledge gained is applied to new planning as well as utilized in assisting use and living style of new buildings. Upon earning my Ph.D. which focused on the elderly inhabitants, I carried out research on the role/positioning of places and institutions in the locale in relation to the difference in age and physical/mental conditions of these elderly people.
I joined the Dept. of Architecture and Building Science's architectural planning laboratory headed by Prof. Yasuaki Onoda at Tohoku University in 2012, a year after the Great East Japan Earthquake, just when planning for reconstruction was needed. Since the Tohoku region had been experiencing the loss and aging of population from before the disasters, leading to many elderly victims being produced due to such demographics, there was an urgent need for new structures based upon architectural planning – such action being required in order to enable the displaced elderly to resume life similar to that before the disasters.
In 1995, Japan experienced another great disaster, the Han-Shin Awaji Earthquake. One of the major issues there was "solitary death" of the elderly, who had been moved from familiar settings to distant locations which weakened links outside of their housing, to lead to many dying alone, without others realizing this fact. In order to prevent such tragedies, it is crucial in the "graying" region of Tohoku for the local governments to look at the rebuilding efforts, in particular scrutinizing public housings for such quake victims. I was asked to support a few of these municipalities such as Shichimigahama, Kamaishi and Minamisanriku.
Shichimigahama, the smallest municipality in Miyagi Prefecture, had been damaged extensively and comprises communities where relations among residents were strong before the disasters. Moreover, population aging in the town was so high that there were many elderly victims produced by the disasters. The government decided to build public housings in each neighborhood to prevent removal from their long-time communities by adopting support for formation of communities in the new locale. The government asked us for help reconstruct and we proposed the Front Access* type of housing, wherein the living quarters are located closer to the public/shared space. Our lab has the experience of having Sendai adopt this type of architecture for its public housing, not to mention conducting research of the residents before and after move-in which indicates improved communication among them. However, in order to secure privacy while enabling smooth communication, a high level of architectural planning was required for the structures. Therefore, an architect selection was held to select the best architects, who then hold workshops to design a plan including the opinions offered by potential residents through these interactive events. To find the best architects, we offered practical support based on our experience and knowledge to the government in setting up the architect selection process, in addition to assisting the selectee's design developments.
As the first inhabitants of the public housing are to begin moving into the public housing in question from spring of 2015, we held workshops throughout 2014 toward formation of communities. By having the residents discuss how to use and maintain common space or how to form residents' associations among themselves, familiarity among them increased and promoted preparations for living jointly in the new housing. Our lab conducted four workshops whose content were realized in consultation with the municipality, as well as acting as a facilitator after preparing models, documents and other reference materials in addition to handling record-keeping for such workshops.
Architecture has not only parts that change but also parts that do not change as they are universalities, despite changes in time and circumstances. Since many buildings that underwent damage must be evaluated, to make use of the knowledge gained this time upon facing the next disaster not to mention upon normal situations. The validation process must continue over the next several years so that the issues highlighted by the Han-Shin Awaji Earthquake from two decades ago are not lost in the memory hole.
*Front Access: Housing with front-oriented living room.
References:
Yasuaki Onoda, HFA Priority for Action 4: Reduce the underlying risk factors, HFA IRIDeS Review Report Focusing on 2011 Great East Japan Earthquake, pp.45, IRIDeS, May 31, 2014
http://irides.tohoku.ac.jp/hfa/